Ivan - Tier 3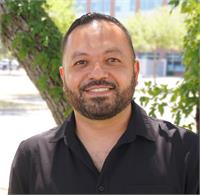 Introducing Ivan:
My hobbies include playing pool, dancing and music. I love life in general and spending time with my lady. I like to give body work to help change peoples lives.

Ivan is our lead instructor here. He teaches approximately 300 hours of Continuing Education classes each year to Oak Haven therapists. He is currently instructing our Headache/Neck/TMJ, Leg/Knee/Foot, Low back/Glutes/Hips and Arm/Shoulder/Carpal Tunnel classes. He is also our lead teacher for both our Ethics and Bountaries and Draping classes.
Licensed Since: 2009
Tier Three Therapist
Advanced Trainings:
Advanced Neuromuscular
TMJ
Myofascial Release
Trigger Point
Rotator Cuff
Areas of Specialty:
Chronic Pain
Back
Neck
Shoulders


What Clients are saying:
"My therapist Ivan, is very responsive and informative. He always addresses whatever issue I come in with and my sessions with him have always been helpful." -D.Chapman
"Ivan is an amazing therapist. He takes the extra care to individualize treatment in each visit." -J.Cress
Ivan - Tier 3 is currently not instructing any classes.