Sarah H. - Tier 2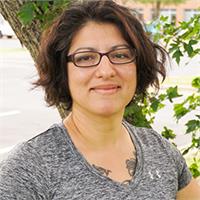 Introducing Sarah:
I like to spend my time baking and doing arts and crafts with my family. I originally got into massage to help heal people. My dad was very sick, even to the point of being bedridden. His doctor gave up and said he would never walk again. This got me interested in corrective work and I was able to really help him!
Tier Two Therapist
Licensed Since: 2007
Advanced Trainings:
Myofascial Releasee
Deep Tissue
Sports Massage
Hot stone
Areas of Specialty:
What Clients are saying:
"I love my massage therapist, Sarah. I've been seeing her weekly for a sciatica hip injury and she helps to relieve my pain. Very knowledgable." -Dana H.
"I have always had a great experience at Oak Haven, the last few times I've had Sarah Hebert as a therapist and she is amazing. She has an uncanny ability to feel the areas that require work and apply just the right amount of pressure." -Rauly W.
Sarah H. - Tier 2 is currently not instructing any classes.