Kelli - Tier 2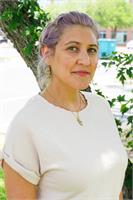 Introducing Kelli:
I love live music, dancing, reading, and swimming. I love being in the outdoors as well as spending time with my family. My favorite part about being a massage therapist is being able to have a positive impact on the lives of others.
Licensed Since: 2009
Tier Two Therapist
Advanced Trainings:

Advanced Neuro
Thai
Trigger Point
Sports
Sports Massage
Areas of Specialty:
Hips
Knees
Low back
Feet
Shoulders
What Clients are saying:
"Kelli is very professional and has great knowledge regarding her work. Superb massage therapist." -Charly I.
"I was able to get a same-day appointment. Kelli was thorough, caring, and attentive to my concerns about a trouble spot in my neck. The atmosphere of the massage room was comfortable and relaxing." -Alisa C.
"Kelli has designed her advanced neuro massage technique to maximize the massage time and to help me heal from an accident; her wide knowledge and thorough understanding of the muscle systems combined with her incredible strength and stamina makes her a must-go-to deep tissue massage therapist." - Arthur D.
Kelli - Tier 2 is currently not instructing any classes.