Jill - Tier 2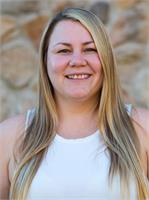 Introducing Jill:
I love hanging out with my family and always look forward to Sunday family dinners. I enjoy being outside and going for walks.
I love being a massage therapist because I am able to help people whether they are looking for a certain area to be worked or just wanting to relax.
Licensed Since: 2015
Tier Two Therapist
Advanced Trainings:
Neck, Headache, TMJ
Lower Back/Thorax
Shoulder/Arm and Carpal Tunnel
Hip/Leg/Knee/Foot Conditions
Areas of Specialty:
Shoulder
Neck
Headaches
Low back
Legs
What Clients are saying:
"I came in on Tuesday with a back injury. I had sharp pain every time a took a breathe. Jill was amazing--she worked diligently on my back and was able to release the knots that were pulling on my ribcage. When I left I could actually take a deep breathe. It took several days utilizing ice packs but I am now back to normal. Thank you Jill!!" -Donna W.
"Jill is an excellent therapist! I like how she is always working to advance her skills and knowledge, even though she is quite knowledgeable already. She has a special gift for working with the intricacies of the body's muscles." -Rachel W.
Jill - Tier 2 is currently not instructing any classes.