Teddy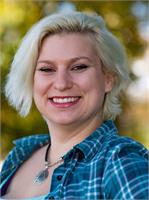 Introducing Teddy:
In my spare time, I love to make costumes and prop weapons! I am also a licensed esthetician.
I've always been a very active person so I knew I couldn't work behind a desk my whole life. I love that being an LMT keeps me in motion all day! I went into massage because I have always been fascinated with the body's ability to move and adapt. As an LMT, I'm able to help my clients utilize as much of that potential as possible.
Licensed Since: 2014
Advanced Trainings:
Deep Tissue
Swedish
Sports
Thai
Areas of Specialty:
Hips
Lower Back
What clients are saying:
"Teddy was absolutely amazing. She has skills! I felt like she paid attention to my needs and I was so relaxed afterwards. She changes the pressure for more sensitive areas and I really appreciated that. I plan on making another appointment with her really soon!" -Sharon O.
"Teddy was very thorough and helpful. I came in with a lower back issue and she was a tremendous help. She even gave me exercises to do at home to help with the tightness. This was all done during the last hour of the day when most people just want to go home." -Michael K.
Teddy is currently not instructing any classes.