Gabby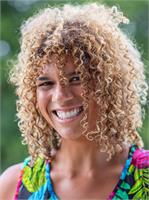 Introducing Gabby:
I love practicing and teaching yoga, marathon and ultra marathon running--really anything that gets me out of my head and into my body. My favorite thing about being a massage therapist is seeing how the combination of my hands, my attention, and my intention affect positive change in the bodies and the lives of my clients.
Licensed Since: 2016
Areas of Specialty:
Swedish
Sports Massage
Deep Tissue
Reiki
What clients are saying:
"Gabby did a really good job. She massaged every part of my body. Stretched me out quite a bit. This was the first time that I received a massage like this. Very thorough." -Carol L.
"Gabby is wonderful....her presence is cathartic!!" -Michele D.
"I had an amazing experience with Gabby. She made my session all about me, she listened to my concerns and was on point during my massage. She sees massage therapy as a passion and it shows in her bubbly personality and her work attitude. She is a keeper and I will most definitely recommend her" -Brandy H.
Gabby is currently not instructing any classes.