Kwesi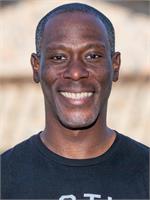 Introducing Kwesi:
When I'm not massaging people you'll usually see me on a bike. I enjoy being outside, kayaking, exploring, good food and friends. I love having the chance to facilitate the healing process. Both the instant relief and long term positive effects of massage are truly gratifying. I also like changing people's perception of massage as a simply luxury but real effective treatment.
Licensed Since: 2009
Advanced Trainings:
Myofascial
Swedish
Sports Massage
Deep Tissue
Minors
Areas of Specialty:
Low back
Glutes
Hamstrings
Hands
Feet
What clients are saying:
"Mr. Kwesi was very professional and listened carefully to my concerns and applied the right level of pressure during the whole deep tissue therapy session. I was very pleased with the therapy provided." -K.R.
"Kwesi was attentive and thorough. I got significant pain reduction and increased range of motion in the right hip I had him focus on." -Fernand T.
Kwesi is currently not instructing any classes.